Southern California
Rail Travel Meetup Group

Above photos of Southern California Rail Travel Meetup courtesy of Carl Morrison.
Rail Travel Meetups:
4th Monday Each Month, 5:00PM-6:45PM,
Joe's No Limits Restaurant, Downtown Fullerton,
128 W Commonwealth Ave, Fullerton, CA 92832, 714-879-2600
(Optionally after the Meetup at about 6:30pm you are welcome to join other attendees who like to head to the Fullerton Santa Fe Depot to await the arrival of the eastbound Amtrak Southwest Chief for Chicago. That train arrives into Fullerton about 6:45pm and departs at 6:50pm.)
The Monthly Rail Travel Meetup is usually held on the fourth Monday of each month from 5:00 PM until about 6:45 PM. If you need a little more time to get the Meetup from work, don't worry if you can't get there until 5:30 PM or so.
Sometimes there will be an optional Meetup Group Rail Outing. These are usually Amtrak or Metrolink trips that will start in the morning and end in the afternoon or early evening of the same day. Information about any upcoming rail trips can be found at the Rail Travel Meetup Group website at Meetup.com/rtmeetup.
CLICK HERE for more information or to RSVP for the next Meetup or Rail Outing.
---
---
---
Upcoming Rail Travel Outings: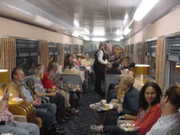 Future Santa Barbara Vino Train Trips
---
What is the Rail Travel Meetup Group?
The Rail Travel Meetup Group is not a passenger rail advocacy group nor a nuts & bolts railfan group. We are just a bunch of people that like to get together and discuss our rail travel experiences in a relaxed atmosphere over some food and drinks! If you like to travel by rail, or are interested in getting started in rail travel, then you should come to our Meetup! If you have questions about travel on Amtrak, VIA Rail Canada, or on most other excursion and tourist railways, bring your questions to the Meetup. Someone will probably have answers to your questions!
There are no application forms and no dues. This is a "no pressure" Meetup without speakers or any set agenda. We'll just be talking about wherever the conversations take us, though we will try our best to keep the topic on rail travel! Just show up on the 4th Monday of each month at 5:30pm whenever it fits your schedule. Some of us are there at almost every Meetup!
Each Meetup will end around 6:30pm. You are welcome to join some of the members who like to wander over to the Fullerton Amtrak Station after the Meetup to watch the arrival and departure of the eastbound Amtrak Southwest Chief. What a great way to end the evening!
Come to the Meetup by rail!
Fullerton has extensive rail and bus service. You can get to Downtown Fullerton from many parts of Orange, Los Angeles, San Diego, Riverside, San Bernardino and Ventura Counties by either Amtrak or Metrolink trains, or in combination with other public transit rail and bus systems. Numerous OCTA bus routes also serve Downtown Fullerton. For exact schedules and routes, visit Amtrak.com, MetrolinkTrains.com, and www.OCTA.net
If you would like to find out more about the Rail Travel Meetup Group and some of its members, click here to go to the Rail Travel Meetup Group website. Although not required in order to attend the Meetups, you can "officially" join the "Rail Travel Meetup Group" at the above link and will then be able to let the rest of the group know more about yourself and will be kept informed about group activities and members.
---
Photos & Stories From Prior Meetups and Rail Outings:

Photos are still being posted of our Meetups and Rail Outings, but now those photos are being
posted directly to the Rail Travel Meetup Group Photo Albums. Click here to view those albums.

Photos by Cathy & Mary Stanfill: 12/22/08 Christmas Party / 11/24/08 Meetup

Photos & Stores From More Prior Meetups and Rail Outings: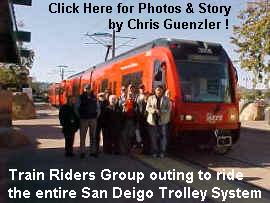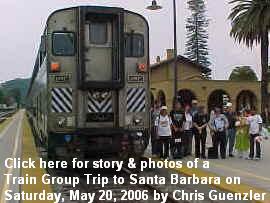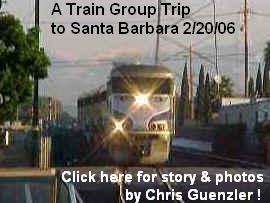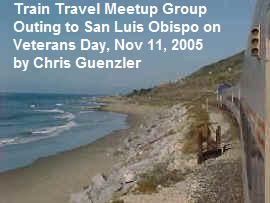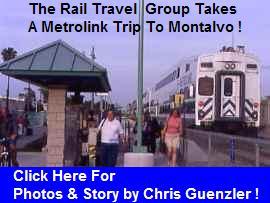 ---
After the October 24, 2005, Meetup, we all went to the Fullerton Santa Fe Depot to greet Amtrak President David Gunn as he arrived in the Amtrak corporate car on the tail of the eastbound Amtrak Southwest Chief. People at the event included: Ken Ruben, Chris Parker, Harold Penensen, Dan Dalke, William Puhl, Mary Pearl Puhl, Stephen Grande, Ray Burns, Margaret Monroe, Daniel Monroe, Pat Moran, L.R. Smithline, Chris Guenzler, Winston W. Walker, Art Tomlin, and Ross Moore, Jr.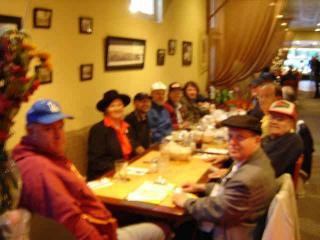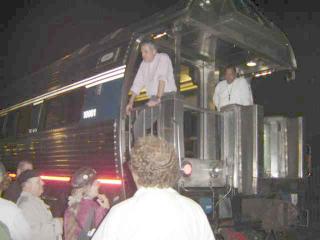 Click each of the above images for larger photos from that Oct 24, 2005 OC Train Travel Meetup.
---
Chris Guenzler: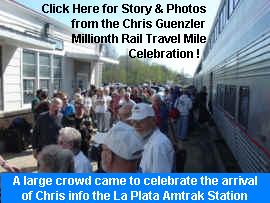 April 07, 2008 - Chris Reaches 1,000,000 Amtrak Rail Travel Miles
April 27, 2007 - Chris Reaches 1,000,000 Rail Travel Miles Overall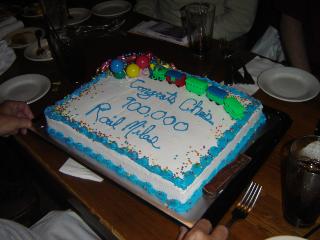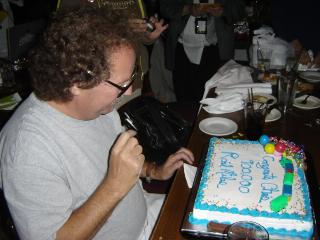 Click here for photos from the November 29, 2005 Meetup
where we celebrated Chris having completed 900,000 rail travel miles.

Click here for Chris related newspaper articles.
Click here for Chris's own website of rail travel photos and stories.
Click below for pages in the directory of TrainWeb sites: